A well-trained workforce is a safe, efficient, and reliable business asset and competitive strategy. But you don't just need to train your workers – you need to train them for good decision-making within your company's food safety plan. While it's important for employees to know how to react to an issue, it's even more important for them to be proactive in your food manufacturing setting, and understand how to prevent common problems altogether. Read on and learn more about the business case for proactive food safety training from ImEPIK.
The Benefits of Shifting from a Reactive to Proactive Model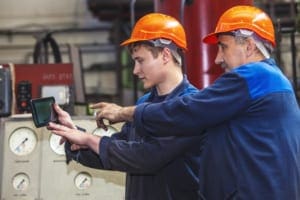 A reactive training model helps develop a safer workplace but is inherently inferior to a proactive training model that sets expectations for trouble shooting before serious problems arise. In reactive training, you only instruct your workers when an incident has taken place – a workforce injury, a recall of your food products, or even problems from  COVID-19 infection being reported at your facility. In contrast, proactive training focuses on preventing these issues altogether, and empowering workers to enhance safety, efficiency, and productivity. This kind of training can help you avoid significant issues like food recalls due to employee mistakes when processing or storing a food item or costly corrections.
Reactive procedures are, of course, important. Mistakes and accidents do happen, and after they do, it's critical to discuss them and train your workers on how to avoid them in the future. But focusing only on a reactive model is a mistake. Proactive training is a long-term solution that lets you think about the big picture needs of your workforce and invest in strategic development of your supervisors and food safety team. It's an investment in your workers – and it will pay off with higher profitability, smoother operations, and a greater sense of control.
You'll also enjoy peace of mind, knowing that your employees are trained to both avoid incidents within your production line and how to react when they happen. For all these reasons, shifting from a reactive to a proactive workforce training model for your food safety team is worth the investment.
Why Choose ImEPIK for Food Safety Training?
ImEPIK is a market leader in the field of food safety training, and we've served hundreds of companies throughout the United States. Our customer service and expert staff are always here to help our partners reap the benefits of proper training. Our unique, interactive platform takes employees through various scenarios and cases to assess they can respond to situations effectively – and get the training they need to develop a proactive mindset that preserves product quality at your facility. Best of all, ImEPIK offers training programs that are ideal for today's business climate, which is still feeling the effects of COVID-19. Our 100% online learning platform is ideal for remote learners who may not be able to go to in-person food safety training courses.
Contact Us Today to Get Started and Learn More
Even more than your equipment and facilities, your employees are the most important part of ensuring food safety at your production facility. Empower them with the knowledge, insight, and depth of technical skill they need to prevent and respond to problems, maximize productivity, and minimize incidents and food safety issues.
Contact us online now to get started with ImEPIK.