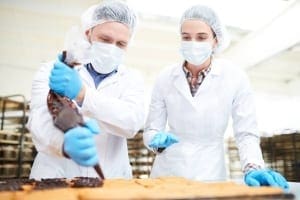 A Preventive Controls Qualified Individual (PCQI) is an internal staff role that is required for all food manufacturers in order to meet food safety regulatory requirements. According to the Food Safety Modernization Act (FSMA), every FDA-regulated food processing facility must have a Preventive Controls Qualified Individual (PCQI) overseeing the food safety plan. This means preparing it all the way through validating the preventive controls, in addition to reviewing and reanalyzing the plan. This role also ensures that there are processes and infrastructure in place to make sure the food safety plan is ready and working as it's intended.
HOW TO BECOME A PCQI
To become a PCQI, you must be trained and prepared to be responsible for food manufacturers' safety plans. Because each FDA-regulated food processing facility must be compliant with FSMA regulations, it is important to be sure that the PCQI is fully capable of creating and managing a food safety plan that aligns with those rules.
It's possible to become a PCQI by demonstrating to an auditor or inspector from the FDA that you have work experience and education that is similar to the FDA training curriculum. Due to the expectations for a PCQI role being somewhat ambiguous and not clearly outlined, most people find it best practice to complete comprehensive training. You can meet the requirements to become a qualified PCQI by successfully completing a PCQI training course in risk-based preventive controls in a program with a standardized curriculum that has been recognized by the FDA.
PCQI RESPONSIBILITIES
A PCQI's responsibility is to prepare a facility's food safety plan. They ensure that the preventive controls that are in place are effective and able to control the identified hazards. A regular review of the records helps them validate the ongoing effectiveness of the plan. They are also responsible for their safety plan to be sufficient to adhere to audits of the food manufacturer.
PCQI TRAINING FROM ImEPIK
ImEPIK offers a 20-hour self-paced online course to prepare PCQIs to implement the FSMA regulations. This interactive, assessment-based training course is made up of ten modules that contain the standardized material allowed by the FDA to qualify a PCQI, as well as additional interactive content, practice and examples.
ImEPIK is committed to providing the best in online food safety training. Our convenient online PCQI training courses reduce the time and travel expenses required for traditional training. We are proud to offer research-backed training that goes beyond what others provide. Reach out today to support@imepik.com or via our live webchat.