When it comes to fulfilling the Food and Drug Administration's regulatory mandates, manufacturers must implement a food safety program that addresses the specific needs of their facilities and products. A core component of reaching that goal is a HACCP plan. 
HACCP stands for Hazard Analysis and Critical Control Point. HACCP plans address food safety and control biological, chemical, and physical hazards from raw material production – such as from farms – through the manufacturing process and beyond.
This blog from ImEPIK will look at how to develop and implement a HACCP plan, and its role in guiding a company's food safety plan.
Food Safety Plans vs. HACCP Plans
According to the FDA, a food safety plan includes the documents in a preventive controls food safety system that identify hazards that must be controlled to prevent or minimize the likelihood of foodborne illness. In addition, documents in the plan describe the activities that ensure food safety during manufacturing, processing, packing, and holding.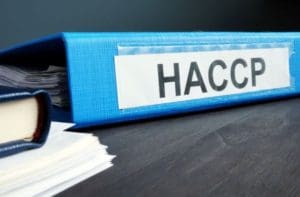 The parts of a food safety plan are outlined in the Code of Federal Regulations.
HACCP plans are critical to a company's overall food safety plan. HACCP predates the FDA's Food Safety Modernization Act and was developed in the 1960s in collaboration with NASA, the Pillsbury Co., and U.S. Army Laboratories to provide safe food for space expeditions. Food manufacturers later adopted the system, and today HACCP is used by the food industry worldwide.
HACCP Plan Principles and How to Establish Your Plan
Farms, food processors, manufacturers, and others in the food supply chain use HACCP plans, and current Good Manufacturing Practices are vital to developing and implementing a successful HACCP plan.
There are seven principles that make the HACCP system:
Conduct a hazard analysis.

Determine the critical control points.

Establish critical limits.

Establish monitoring procedures.

Establish corrective actions.

Establish verification procedures.

Establish record-keeping and documentation procedures.
How to Develop Your HACCP Plan
There are five preliminary steps to develop a HACCP plan:
Assemble your HACCP team.

Training is critical to the success of a HACCP plan, as well as a commitment from the company to ensure employees and managers understand their roles in monitoring critical control points. Training at all stages of the manufacturing process includes making sure that the time and tools are available so employees can follow through with a HACCP plan.

Describe the food and its distribution.

That includes everything from considering the microbial risks of the ingredients to how a facility's design minimizes or contributes to possible cross-contamination and sanitation procedures throughout the facility's shifts.

Describe the intended use and consumers of the food.

Hazard analysis at all stages must be considered, even after the product is handed off to the consumer.

Develop a flow diagram that describes the process.

Conducting a hazard analysis involves a comprehensive look at all stages of the manufacturing process and evaluating potential food safety problems.

Verify the flow diagram.

Double-checking and verifying the flow diagram is essential to the process because it gives your team one last pass on responsibilities and prevents any missed points or redundancies.
ImEPIK Food Safety Training: Interactive and Comprehensive
ImEPIK's self-paced training is designed to ensure understanding of HACCP plans and their role in FDA food safety mandates. Real-life production scenarios and support materials are included in the training, allowing users to test and apply knowledge during the process.
Contact ImEPIK today to learn more about the company's user-friendly platform and how it can help you achieve food safety goals at your company.